Working...

Reliable Research Sources (sources we KNOW are reliable)
World Book (username=dcwest213)
CultureGrams (login=77-17192)
eLibrary (login=77-17192)
-eLibrary video
History Study Center (login=77-17192)
-Primary & Secondary Sources video
-Primary vs Secondary sources video
-Analyzing Primary vs Secondary sources for MS
-History Study Center in 2 minutes or less
Learning Literature (login=77-17192)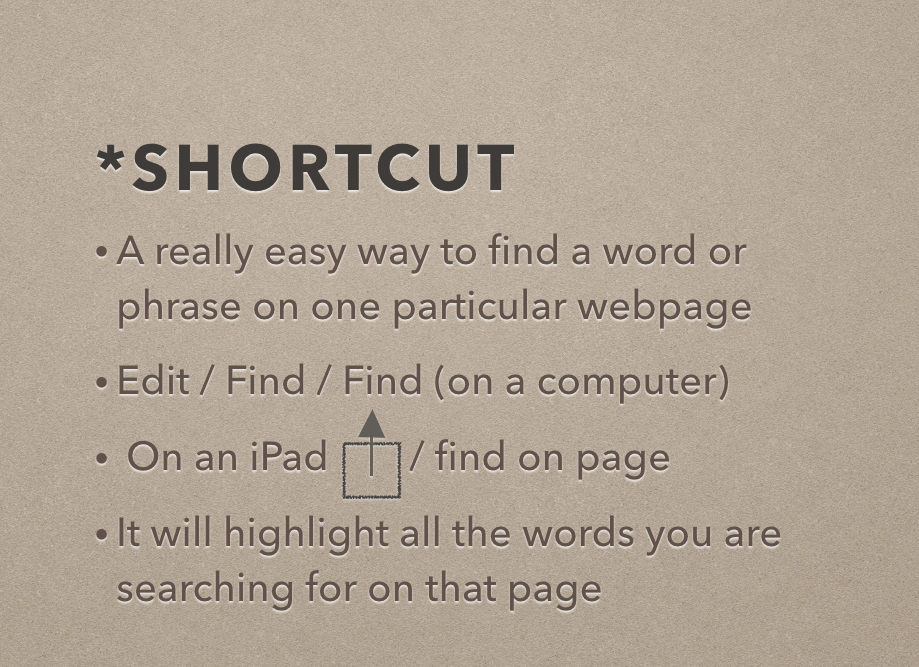 Games
Interland Game (What is Interland?)
Weird Facts
Fun Facts (Weird but True)
Dewey Decimal System
Dewey Rap #1
Library Hotel, New York City (inspired by the Dewey Decimal System)
*DeweySign In Link Jeopardy (game)
How Much Dewey Can You Do? (game)
Do The Dewey (game)
_____________________________________
Plagiarism
Plagiarism video
*Goblin threat Plagiarism Game
What is Plagiarism? (video)
C.R.A.A.P. Test
Apply the C.R.A.A.P. Test to these websites.

In your small group, complete a C.R.A.A.P. Test Form for these two websites above.
(Helpful hint: to determine Authority, try truncating the URL address -- cutting off the end)
Evaluating Websites using C.R.A.A.P.
*Evaluating Websites using C.R.A.A.P.
Primary vs Secondary Sources
Primary vs Secondary Sources
Your Digital Footprint
*Digital Etiquette
*What's in Your Digital Footprint?
*What Does Your Digital Footprint Say About You?
Ways to Make a Positive Digital Footprint
*Top Secret (Privacy dilemmas)

Copyright
*What is copyright?
For Fun (Plagiarism & Internet Safety)
Digital Compass (Digital Citizenship)
Allies and Aliens (doesn't work on an iPad)
Tagul (create a Word Cloud in a shape
Research Project info
Research Project Requirements (7th grade)
How to Make a Bibliography (Citation) (video)
Cite This For Me (to create citations for your Bibliography)
Rubric (how you will be graded)
How to Choose a Research Topic (video)
Bibliography:
Sample Bibliography
BibMe (to create a bibliography
How to Make a Works Cited Page (Bibliography)

Research Videos
How to Paraphrase
How to Make a Works Cited Page (Bibliography)
What is Plagiarism & How to Avoid It
Evaluating Websites
*Evaluating Websites using CRAAP
Fact vs Opinion
Fun Facts (Weird but True)
Weird Facts
Fun Facts (Weird but True)
Dewey Decimal System
*DeweySign In Link Jeopardy #1
Hotel Library Manhattan (inspired by the Dewey Decimal System)
Put Books in Order
Shelve-It
For Fun (& learning)
*AutoDraw (doodling that guesses what you intended to draw)
Privacy Pirates (Internet safety)
Library Terms (mult. choice)
Library Terms (matching)
https://scratch.mit.edu/projects/212848290/
https://hourofcode.com/us/learn
Make a Comic teaching kids about Digital Citizenship & your Digital footprin
Games (Plagiarism & Internet Safety)
(if you need to, activate Flash first)
Website Warrior